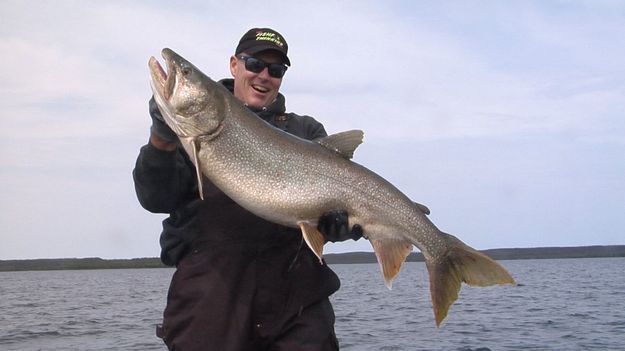 Today the Mercury Marine Destination takes us up to Cree Lake in Northern Saskatchewan. 
Charlie's annual trip to Cree Lake Lodge is always highly anticipated for big fish. The day starts with calm conditions, and when it's calm, it's best to take advantage and head to the open waters for Lake Trout.  These fish can get huge and lure choices can vary, but it's obvious when they show a preference. 
Then, it's an afternoon of Pike.  With these oversized giants, tackle needs to be of high quality and ready for impact and sharp teeth.  With experienced local guides, and fish of your wildest dreams, you need to be ready. 
Species:  Lake Trout / Northern Pike
Tackle: Lake Trout – Daiwa Saltist line counter reels, Daiwa Great Lakes trolling rods, Viking 100% waterproof raingear, Seaguar 50lb test Threadlock High Impact braided line, Len Thompson spoons, 50 lb Test Seaguar Blue Label leader material, Mustad Swivels, Mustad 3X strong Triple Grip Treble hooks, Rod Glove rod protectors, 18 ft Crestliner Kodiak boats, Mercury 60hp motors.
Pike – Freedom Hydra Live action jigheads, 5 ½ inch X-Zone Mega Swammers, Daiwa Lexa 300 reels with twin Winn Grip handles, Daiwa Tatula rods, 50lb test Seaguar Threadlock braided lines, 130 lb test Seaguar Abrazx Muskie and Pike Leader, Mustad fastach connectors, 6/0 Mustad Big Mouth Tube hooks, Costa RX sunglasses.
Technique: Lake Trout – With weight restrictions of only 50 lbs for this fly in, and this includes clothes, a load of lead weights is out of the question.  Trolling the largest 1 1/8oz Len Thompson spoons are the ticket today, but you need flexibility in targeting depths. A 3-way swivel system is ideal. Main line to the swivel, 6 feet of 50lb test Fluorocarbon to the lure, and a dropper line of 18 inches to a diver. The diver takes the place of pounds of lead.  To change diving depths as needed, only a couple of 1 oz tungsten slip sinkers are needed in the tackle bag instead of a load of different weights.  These are added on the dropper line above the diver as needed. Tungsten is much smaller than lead and offer much less water resistance. 
Lake Trout are well known to slash at their prey hoping to injure it for an easy meal, so they don't always engulf the lure when hitting it. To increase hooking percentages, adding an additional split ring to extend the hook back a little further, can make a huge difference.  A Mustad 3X strong Triple Grip treble is added for holding power.  The configuration of the Mustad Triple Grip is much harder for a rolling and twisting Lake Trout to spit out since it locks itself in better, especially with the barbs pinched. The Daiwa line counter reels are also crucial to repeat the successful length of line out, once you find that magic depth. 
Pike -  Swim baits and Freedom Hydra jigheads for giant Pike. The Freedom heads have proven themselves as one of the absolute best lures for these monster Pike. Since the hook is not locked into the lead head, but instead attached by a unique twisted wire loop, that also allows you to change hooks as needed for different situations or even to replace a damaged hook, the loop gives absolute freedom and a life like look to the swim baits.  Watching the action in the water, the Freedom heads have an independent swimming/rolling action, and the plastic X-Zone Swammer has it's own swimming action since the hook has freedom of movement on the jigheads wire loop.  From even the first time testing the Freedom jighead, it was obvious the action was special, as the fish almost always targeted the rolling Freedom head. 
While there are many leader types on the market with wire being the most common, 130 lb Seaguar Fluorocarbon has quickly become the choice of the more experienced angler for many applications. Virtually invisible in the water, the Seaguar has almost the same refraction index as water.  Out of the water it might simply look like mono, but in the water, it almost looks like the water and is virtually invisible.  Seaguar has many advantages over wire, it is less invisible than wire.  The thicker diameter while still being virtually invisible, allows the angler can grab the leader without risk of being cut up like wire would, and it doesn't kink and break like wire does.  And a huge plus for the fish, when they roll in the leader, it doesn't dig into and cut up the fish like a thinner wire would. The 130 lb test Seaguar Abrazx is truly ideal for Muskie and Pike fishing. 
Special Thanks: Cree Lake Lodge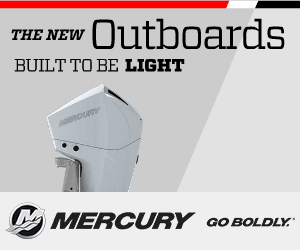 About Charlie Wray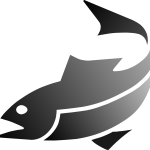 Charlie Wray has been host of the very popular TV show, Fishful Thinking, since 1990. Part of the success behind the show has been the very informative format. Perfect for both the novice and experienced angler, Fishful Thinking provides entertaining insight for all audiences...read more