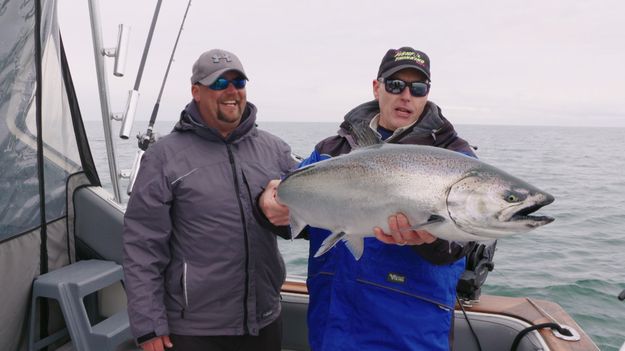 Today the Mercury Marine Destination takes us to Lake Ontario out from the city of St. Catharines.  
A short early morning run in the RAM takes us to Port Dalhousie.  Charlie jumps on board with Fishmaster's Ultimate Charters, and joins up with buddy Steve Hardcastle for some early season Salmon.  Fishing deeper than expected is the game today, and there is no shortage of active fish.  Attention to details can pay off big with better hooking percentages when activity and aggression levels change.  Vary your techniques, it often goes back and forward all day long. 
Species: Chinook Salmon
Tackle: Mustad Ultra Point Siwash hooks, Northern King spoons available in custom finishes, Daiwa Saltist line counter reels with 6:1.1 gear ratio, Seaguar Abrazx 20 lb test Fluorocarbon main line, Humminbird Helix 12 fish finders,  Daiwa Sealine line counter reels, Hot Spot Agitator attractors, Daiwa Accudepth and Great Lake trolling rods, Cannon downriggers with stop at waterline feature, Viking 100% waterproof raingear, Mustad ball bearing swivels, RAM 1500 with 5.7 Litre Hemi engine. 
Technique: Early season, deep water trolling. Forget the perfect water temperatures, waters deeper than you expect can be holding large schools of unpressured Salmon.  When winds keep pounding the shallower waters, day after day, Salmon will seek out the protection of the deeper waters where temperatures remain consistent.  Even though they might want to move in shallower to warmer waters once conditions and temperatures become more consistent, it becomes more comfortable for them to remain in temperatures that are steady. 
Special Thanks: Fishmaster's Ultimate Charters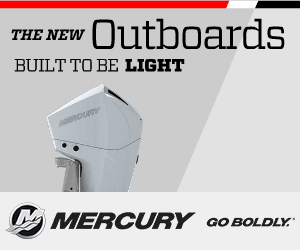 About Charlie Wray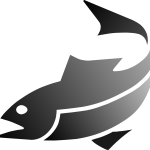 Charlie Wray has been host of the very popular TV show, Fishful Thinking, since 1990. Part of the success behind the show has been the very informative format. Perfect for both the novice and experienced angler, Fishful Thinking provides entertaining insight for all audiences...read more