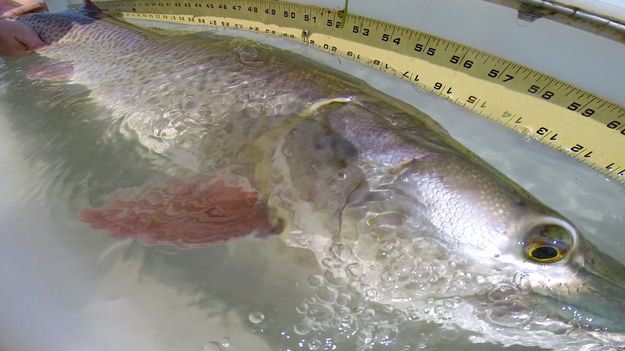 The Mercury Marine Destination takes us to Lake St. Clair. After an early morning run in the RAM, Charlie and Terri join up with Drifter 2 Charters, and long time friend and Muskie guide Captain Jim Fleming.  This shallow water fishery is better suited for planner boards, with line counter reels making it much easier to repeat the success.  Jim has always been one to constantly tweak his presentations, and it certainly works well today.  
Charlie and Terri love Muskie fishing, but today is one for the record books with an amazing number of fish caught and landed.  
Species: Muskie
Tackle: Daiwa LEXA 400 reels with line counter, Daiwa Saltist line counter reels, 50 lb test Seaguar Threadlock, Mustad Stainless Steel Double hooks, 80 lb Test Seaguar Blue Label Leader Material, Mustad Fastach connectors, Costa RX Sunglasses, Daiwa Sealine rods with E-Glass construction, RAM 1500 with 5.7 Litre Hemi engine.
Technique: Planner Boards and down rods for shallow water Muskie.  Lure action and colour choice is more important than many think on this water system and it has been proven year after year that colour and finely tuned lures make the difference. Once the diving depth to match the water is determined, Daiwa line counter reels are extremely important to repeat the lead of line exactly.  Too much line out, the lures are fouled in bottom debris.  Not enough, they can be running to shallow. Floating weeds are often a problem on Lake St. Clair, a special system with a dropper weight not only makes it easy to change weights during the day, but make for a wonderful weed collector. Rods need to have a strong backbone with yet a flexible tip to show lure vibration, this makes it easy to tell the lures are working correctly and not fouled with weeds. The Daiwa 7 foot Sealine rods with flexible yet powerful E-Glass construction are ideal. 
Special Thanks: Drifter II Charters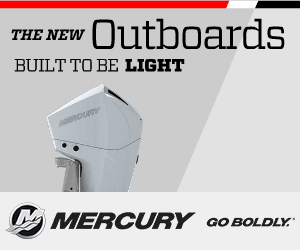 About Charlie Wray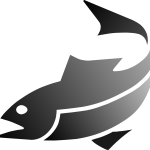 Charlie Wray has been host of the very popular TV show, Fishful Thinking, since 1990. Part of the success behind the show has been the very informative format. Perfect for both the novice and experienced angler, Fishful Thinking provides entertaining insight for all audiences...read more