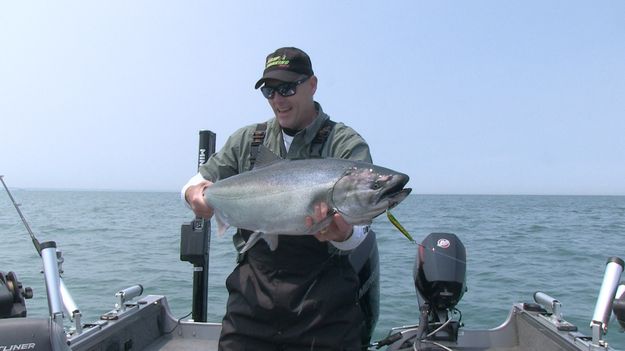 Today, the Mercury Marine Destination starts us on Lake Ontario out from the Niagara Region.   
Early season Salmon are the target today, and with waters being cold, trolling speed and boat control are crucial.  Mix up your offerings until you find a successful combo, and when you do it becomes obvious!   Then later in the show a run in the RAM takes us to Cochrane air services in Northern Ontario.   Small lakes full of Walleye are always a treat, and with the help of an extra set of eyes and a lure that just screams eat me, the Walleye almost line up to be next in the net. (#9) 
 Species:  Salmon / Walleye 
Tackle:  Salmon – Daiwa Saltist line counter reels, 20 lb test Seaguar Abrazx 100 % Fluorocarbon main line, Northern King spoons, Mustad Siwash hooks, Hot Spot Agitators, Cannon downriggers, track system and adjustable rod holders, Humminbird Helix fishfinders with Mega Imaging Plus, Crestliner 1950 Fish Hawk, Smooth Moves Seat mounts, Mercury 200 hp V6 four stroke motor, RAM 1500 with 5.7 litre Hemi engine, Costa RX Sunglasses, Viking 100% waterproof raingear.
Technique: Salmon – Northern King spoons and attractors for Salmon. A double Hot Spot Agitator is run from the downrigger ball with the main line attached to a release clip 18 inches above it. this allows the angler to fight the fish without the attractors on the line. Without attractors on the line, you now have the ability to run a slider on the line without worry of tangles.  A slider is simply about a 6-foot length of line, larger swivel on one end, normal swivel and Northern King spoon on the other, that is attached to your main line once your first presentation is set in the Cannon downrigger. This finds the belly in your line and adds an extra spoon in the spread.  Simply from water resistance, a belly is in the line while trolling and the slider finds that spot by itself.  Hits can look different, instead of a hit being on your main line in the release clip that pulls out.  The slider hit can be a lot of shaking at first until it pulls the main line from the release clip.  At this point it might look like the fish fell off, but what is happening, is the slider now needs to be pulled down the main line until the swivel on the slider stops at your spoon on the main line before tightening up.  With smaller fish, you will need to pop the release clip on your main line since there might not be enough pressure on the slider to do it. When using a slider, it is helpful to keep the main spoon from the release clip on the shorter side…..no long leads since the slider hits still have to slide the entire way before tightening up. Great system to add another lure in the water.  Mustad Ultra Point hooks are sticky sharp out of the package and help greatly in hooking the fish.
Tackle:  Walleye – Daiwa LT Light and Tough spinning reels, Seaguar Smackdown Tournament braided lines, Daiwa Tatual rods, 15 lb test Seaguar Blue Label Leader Material, Mustad Fastach connectors, Humminbird Helix 5 Portable fish finders, EGO telescopic nets, Minn Kota Traxxis with one hand stow and digital maximizer.
Walleye -  Dark water Walleyes love vibration and rattle.  Small Rat-L-Trap lures can be magical when slow fished and worked almost like a jig on the bottom.  A slow lift… just enough to feel the rattle and a controlled drop is ideal.  It is amazing how you can feel the vibration so strongly with a sensitive rod like the Daiwa Tatula, telegraphing the lightest hit or even when debris is picked up.  Dark waters make it next to impossible to quickly find edges and holding areas, especially since everything looks the same in dark water….even with great sunglasses cutting the glare.  A portable Humminbird Helix fish finder is worth its weight in gold to find structure and holding areas quickly.  Small lakes are fun, you can cover the entire lake with the fish finder and map it out entirely and drawing out your own map.  Without some underwater eyes, you are fishing blind. The Humminbird is a huge time saver and makes the experience so much better.  Boat control and drift speed is also crucial and a transom mount Minn Kota is an awesome accessory to bring along, you need to keep a slow drift speed to work the lures properly.  Even a Minn Kota drift sock is very helpful to slow the drift.
Special Thanks: Cochrane Air services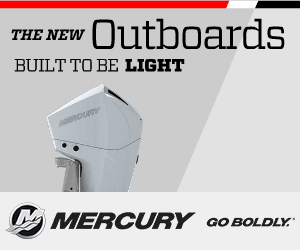 About Charlie Wray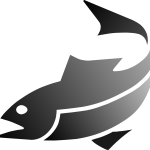 Charlie Wray has been host of the very popular TV show, Fishful Thinking, since 1990. Part of the success behind the show has been the very informative format. Perfect for both the novice and experienced angler, Fishful Thinking provides entertaining insight for all audiences...read more