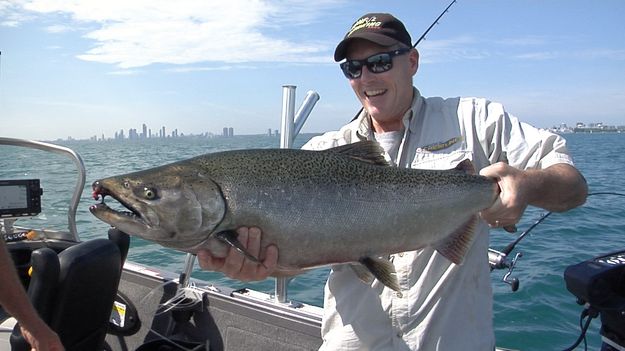 The Mercury Marine Destination starts on Lake Ontario just out from Toronto.  Charlie joins up with buddy Captain Al Stewart for Salmon on Lake Ontario.  The Crestliner Authority has plenty of room, and they need it to haul in todays catches.  Downriggers are ideal for fishing deep water and trolling speeds can be crucial.  But it's the time-tested secrets that make the difference today.  Then, Charlie heads to Georgian Bay for Smallmouth Bass.  Drop shotting is a great way to trigger inactive Bass and new hook styles can even make it easier. 
Species: Salmon / Smallmouth Bass
Tackle:  Salmon - Daiwa Sealine and Saltist line counter reels, Daiwa Great Lakes rods with triangular EVA foam grips, Seaguar 30 & 50 lb 100% Fluorocarbon leader material, Cannon downriggers, track system and adjustable rod holders, Mustad Ultra Point 3X strong treble hooks, Mustad ball bearing swivels with welded ring,  Costa RX 100% polarized and 100% UV A, B and C protection, Smooth moves shock absorbing seat bases, Crestliner 2250 Authority, Mercury 250 hp Verado motor and 15 hp Mercury Pro kicker fuel injected motor. 
Technique: Salmon - Trolling wire line and side tracking dipsy divers.  A few valuable tips to avoid getting bit off by the sharp teeth of the mature Salmon.
Tackle:  Smallmouth Bass -   Daiwa LT spinning reels, Daiwa Tatula Elite Finesse Drop Shot rods, 8 lb test Seaguar Finesse 100% Fluorocarbon Performance line, Mustad Ultra Point No- Twist Drop Shot Hooks, X-Zone Pro Series Finesse Slammer with X-Formula Scent, Minn Kota Ulterra bow mount motor with auto stow and deploy, Humminbird Helix 10 Fish finders, Costa RX Polarized sunglasses with 100% UV - A,B and C protection, EGO Guide nets, Crestliner 1950 Fish Hawk with 101 inch beam, Mercury 150 hp four Stroke Motor, RAM 1500 with 5.7 Litre Hemi Engine.
Technique: Smallmouth Bass – Drop shotting for inactive bass.  Boat control is essential and the Minn Kota Ulterra with Spot Lock makes boat control and holding still a breeze, even in stiff winds. Balancing your tackle makes this technique highly efficient, from the incredibly sensitive Daiwa Tatula Elite Finesse Drop Shot rods, to the Mustad No-Twist Drop Shot hooks. 
Special Thanks: Humminbird Helix 10 Fish Finders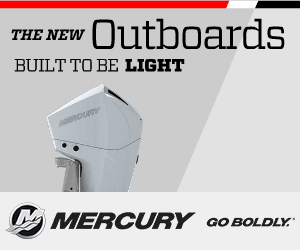 About Charlie Wray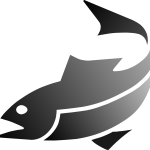 Charlie Wray has been host of the very popular TV show, Fishful Thinking, since 1990. Part of the success behind the show has been the very informative format. Perfect for both the novice and experienced angler, Fishful Thinking provides entertaining insight for all audiences...read more