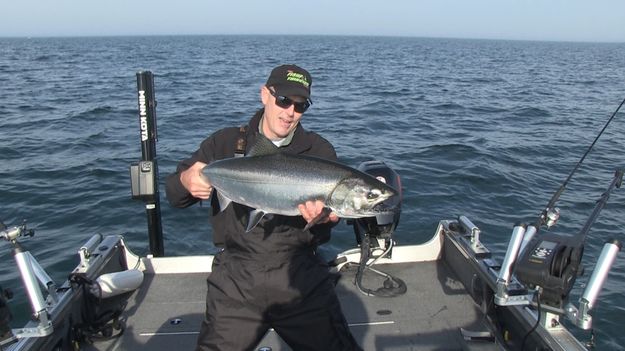 The Mercury Marine Destination starts on Lake Ontario just out from the Niagara Area.  Early season Salmon are the target today, and with a load of lure choices, this one might really grab your attention.  No messy Herring but the exact same action, and it doesn't take long to show it works!  Then, Charlie takes the RAM for a drive to the Ottawa river and spends a day with John Anderson of the Ottawa River Musky Factory.  Not only do they have a fun day of fishing, but an update on a method that can save fish no matter what species you are fishing for. 
Species: Salmon / Muskie 
Tackle: Salmon – Daiwa Saltist line counter reels, 20 lb test Seaguar Abrazx 100 % Fluorocarbon main line, Freedom Herring Cutbait lures, Mustad Siwash hooks, Hot Spot Flashers, Cannon downriggers, track system and adjustable rod holders, Humminbird Helix fishfinders with Mega Imaging Plus, Crestliner 1950 Fish Hawk, Smooth Moves Seat mounts, Mercury 200 hp V6 four stroke motor, RAM 1500 with 5.7 litre Hemi engine.
Technique: Salmon – Salmon love that enticing cut bait roll. The largest problems with real Herring cut bait, is it is often hard to get, messy, very speed sensitive, and if it slips from the ideal roll or gets hit without being noticed, you can be trolling for long periods of time with an unproductive or damaged lure. A lure that is designed for Salmon, and to imitate the perfect look and roll of cut bait, is the new Freedom Herring.  Same perfect roll as cut bait, tremendous colour choices and works at a wider range of trolling speeds.  The Freedom Herring has that perfect rolling action, works at a wide range of speeds, and is made from a very hard plastic. It can stay fishing no matter if it was bumped or grabbed and has proven basically indestructible, even after dozens and dozens of big fish. Daiwa line counter reels are idea to repeat the exact amount of line out that has been working.  If you have never invested in a line counter reel before, it makes a huge difference.  
Tackle:  Muskie - Daiwa Lexa 400 reels, Humminbird Helix 10 with split screen and GPS, Mapping by Navionics, Daiwa DXM Muskie Specialty rods, 80 lb test Seaguar Thread Lock High Impact Braided lines, Mustad Stay Lock snaps with Ball Bearing Swivel, Seaguar Abrazx 130 lb test 100% Fluorocarbon Muskie and Pike Leaders, Muskie Factory double bladed inline spinners with saltwater flashabou, Viking 100% waterproof Jackets and bibs, Viking NBR palm coated cut resistant gloves, Minn Kota Terrova 36 volts with 112 lbs of thrust, Crestliner 1850 Raptor, Mercury 150 hp Four Stroke Motor. RAM 1500 with 5.7 litre Hemi engine. 
Technique:  Muskie – Casting Muskie Factory double bladed inline spinners for Ottawa River Muskie.  Boat control in rivers with strong currents can be deceiving. If you spend long hours and days fighting currents, it might be time to consider a 36 volt Minn Kota Terrova with 112 pounds of thrust to enjoy your day to the very end.
Special Thanks: PLACE 1967 in Plantagenet, Ontario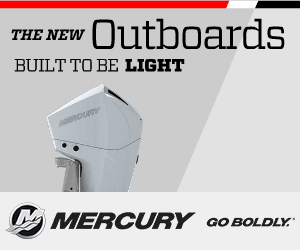 About Charlie Wray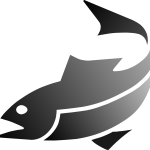 Charlie Wray has been host of the very popular TV show, Fishful Thinking, since 1990. Part of the success behind the show has been the very informative format. Perfect for both the novice and experienced angler, Fishful Thinking provides entertaining insight for all audiences...read more