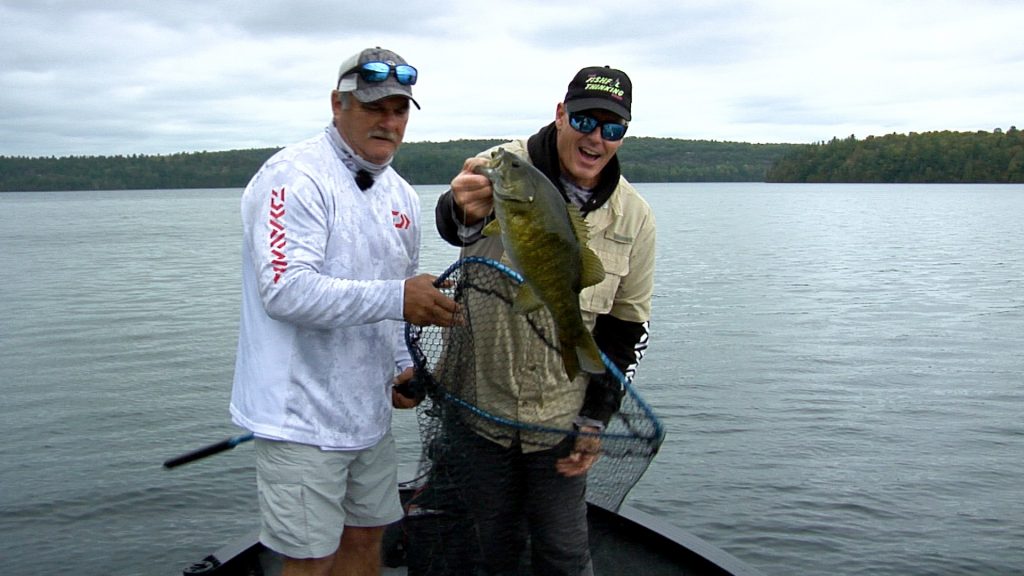 Today the Mercury Marine Destination takes us to the Land O' Lakes area of Eastern Ontario.  
Charlie joins back up with good friend Chris McMillan.  Chris wanted to see Charlie's new Princecraft boat, so why not also spend a fun day on the water.  Bass are the target today and structure plays a very important role;  pin pointing the best structure is key for concentrating the fish.  Never assume on the best presentation, always let the fish decide.  Be flexible, sometimes even the largest fish want the smallest presentation.  Find the structure and find the Bass, this week on Fishful Thinking.
Species:  Smallmouth Bass
Tackle:  
20 lb test Seaguar Smackdown Performance braided lines 
Daiwa LT Light and Tough Ballistic Spinning reels  
Set The Hook 5- inch Spike worms, now with Bait Fuel 
Daiwa Tatula rods with X45 Bias Graphite Construction   
15 lb test Seaguar 100% Fluorocarbon leader material  
4 inch and 2 ½ inch Tubes by Set The Hook Bait Company 
Humminbird Helix 10 fishfinder with Mega Side Imaging Plus 
Minn Kota Ulterra Trolling motor with Spot Lock feature 
100% protection from UV A, B and C with REVO sunglasses 
Casting or trolling and designed for multi species, the Princecraft Xpedition 200, with the optional fold down removable bench seating.  
Mercury 225 hp 4-stoke motor.
Technique:  Deep water Fall Bass. Never think too far ahead, you might have an idea of what to start with, but change tactics quickly and let the Bass let you know what the flavour of the day is. Wacky worm fishing with Set The Hook – 5-inch Spike worms does well today, but the wind is blowing harder than expected and baits need to get down quickly for these deeper than expected Bass, and weighted hooks are the answer. When the activity slows, dragging a tube proves the winner later in the day and sometimes smaller is better, even for the larger fish as they show a preference for the 2 ½ inch Set The Hook tubes.  
Smooth drags and sensitive rods are a must. Daiwa LT – Light and Tough spinning reels matched up to Daiwa Tatula rods are ideal for this type of presentation.  Even the lightest hits are easily detected, and the silky-smooth drag of the Daiwa reels protect from tearing out hooks or breaking lines. The ultra thin 20 lb test Seaguar Smackdown braid is joined to 15 lb test Seaguar 100% Fluorocarbon leaders for abrasion protection and an almost invisible approach. The thin Smackdown allows the baits to drop resistance free and offers incredible hooking power. In clear rocky waters, a 7–8-ft. leader of invisible Seaguar Fluorocarbon is a must for more hits. 
 Humminbird MEGA Side Imaging Plus shows areas off to the sides that most would never notice that are fish holding structure. Even on lakes you thought you knew like the back of your hand; you will see an entirely new world to unlock.  A slow trolling speed is selected on the Minn Kota allowing the tubes to lightly tick across the bottom, so important for this technique. The Spot Lock feature is handy to anchor the boat when things get busy.  Spot Lock will hold the boat on an exact GPS spot no matter how windy or how deep the water is, just like an invisible anchor, but better. No boat swing at all.  If you are serious about your fishing, equipment like the Humminbird and Minn Kota Ulterra are worth their weight in gold!!
The Princecraft Xpedition 200 has a huge front casting deck and designed and set up as an incredible multi species fishing boat.  A huge rod locker up the middle, large livewell, comfortable cushy seats and well-designed consoles. Not only for the built in fishfinder, but storage room and the perfect height for protection when running down the lake.  One specific feature Chris wanted to see was the rear bench. The optional rear bench seating folds down into a massive back casting deck, and is easily removed when not needed or when cockpit room is needed for trolling situations. The simple push down of a strap with your foot, and the entire bench lifts out in a matter of seconds. No screws, no clips, just pops out, and pops back in as easily. The plush comfortable bench seating, complete with drink holders is a perfect addition for versatility for family outings, or serious fishing. 
Towing has never been a problem, especially with the RAM 2500 Diesel with the 6.7 litre Cummins engine. Power and fuel efficiency, even when towing the boat. So many features make this Charlie's choice of vehicle for over 15 years now, but one feature that has become one of his personal favourites is the blind spot alert.  A small yellow triangular light shows up in the side mirror when a vehicle is coming along side, and when the boat trailer is in tow, it extends to accommodate an extra 9 metres for the trailer.  So helpful on busy highways and especially dark rain nights.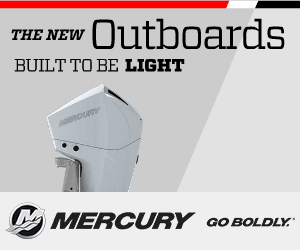 About Charlie Wray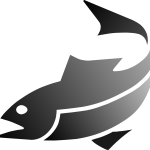 Charlie Wray has been host of the very popular TV show, Fishful Thinking, since 1990. Part of the success behind the show has been the very informative format. Perfect for both the novice and experienced angler, Fishful Thinking provides entertaining insight for all audiences...read more