Today the Mercury Marine Destination takes us over to Saskatchewan and then down to Lake Ontario.  
First, today is no picnic in the weather department, cold and windy but the fish are still there!  Pike are the target this morning as Charlie joins up with Brandon Schreiber of Cree Lake Lodge.  Don't get stuck in a rut, change tactics quickly and modify for the conditions.  When you find the magic ticket, the fish will certainly let you know.  Then, jigging can be a wonderful alternative to trolling when currents create a problem, when a technique works…it works!!  Dealing with the conditions, this week on Fishful Thinking.
Species:  Northern Pike
Tackle for Pike: 
100% protection from UV A, B and C with REVO sunglasses 
40 lb test Seaguar Smackdown Performance braided lines 
Daiwa Zillion Heavy Duty Baitcasting reel with the T- wing system  
130 lb. test Seaguar Abrazx Muskie and Pike Leader
Available in 1 or 2 piece, the Daiwa Rebellion Rods    
Viking 100% waterproof and windproof jackets pants and bibs
Technique:  Slow rolling spoons for a cold-water presentation. Sometimes Pike are in the debris filled areas, a weed guard using 80 lb test Seaguar Fluorocarbon is tied allowing the spoons into areas a bare hook would foul for sure. Daiwa Tatula and Daiwa Zillion baitcasting reels have a T-Wing system that makes casting all lures easier and further.  In free spool, the T-Wing aperture drops down, allowing a large area for the line to flow from. When the reel is engaged, the T-Wing goes back up and the line slides into a sleek groove that is now your level wind that smoothly lays your line across the spool. This not only helps increase casting distances, but also helps to eliminate all those nasty birds' nests that folks associate with baitcasting reels. These reels even cast into the wind so much easier!!!
This is a windy, nasty day and with the proper attire, you forget the conditions. Viking makes 100% waterproof jackets, pants and bibs as well as boots, and when you dress for the conditions and stay warm and bone dry, the fun never stops. 
Species: Salmon
Tackle for Salmon:
Daiwa Lexa 300-line counter baitcasting reel with power handle 
Seaguar STS Salmon 100% Fluorocarbon Leader Material 
Minn Kota Ulterra Trolling motor with Auto Stow and deploy  
Designed for multi species, the Princecraft Xpedition 200  
Mercury 225 hp  4-stoke motor. 
RAM 2500 with 6.7 litre Cummins Diesel engine 
Technique:  Heavy jigs for Great Lakes Salmon. Normally jigging is a Lake Trout tactic, but it also works for Salmon.  Trolling is the normal method of approach for Salmon, but today and after high winds, the currents are crazy and messed up. Extremely hard to keep a speed and any proper action to the spoons while trolling. Time to break out the jigs!  The Daiwa Lexa 300-line counter makes it handy, it lets you know when you are close to the bottom during the drop, so if the line stops early, you can reach to a hit faster.
About Charlie Wray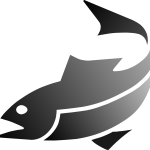 Charlie Wray has been host of the very popular TV show, Fishful Thinking, since 1990. Part of the success behind the show has been the very informative format. Perfect for both the novice and experienced angler, Fishful Thinking provides entertaining insight for all audiences...read more